Redfield Snowmobile Association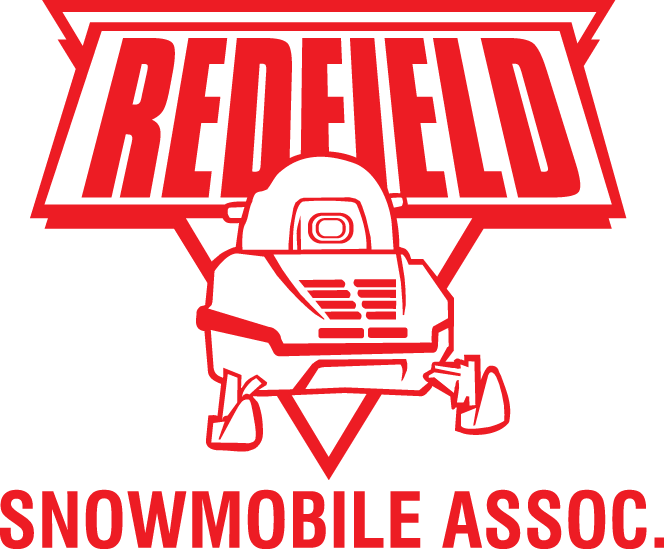 About Redfield Snowmobile Association
Welcome to the on-line home of the Redfield Snowmobile Association.
Our club was formed over 40 years ago and still continues to grow with over 700 members. The Town of Redfield is located to the 'lee' of Lake Ontario, giving us over 250 inches of snow annually. Our nearly 50 mile trail system connects to trails in Lewis, Oneida, Oswego, and Jefferson counties. We are a totally voluntary organization and appreciate your interest and support. Our trails open one week after Northern Zone hunting season closes - snow conditions permitting. Ride safely; respect the trail surface and our landowners - without them there would be no trails. We are proud members of the Oswego County Snowmobile Association and the New York State Snowmobile Association.

TRAILS - 9/18/2020
Unauthorized ATV use is prohibited on all trails.
WORKDAYS
Our organized summer group workdays are back.  The work days are the 2nd Saturday of the month from April-December.
MEETINGS
Our December 12th Club Member meeting will be 7:00 pm at the Groomer Barn.  Attendance may be limited due to Covid Restrictions
EVENTS
Our annual Poker Run and Chicken BBQ has been cancelled for  Saturday, January 16th, 2021.
The Sled Raffle drawing will be held at the Groomer Barn, Saturday, January 16th at 3:00 pm. Personnel will be there from noon to 3 pm to receive and sell raffle tickets.
 You can also purchase  raffle tickets  by contacting Kathy Frey at membership@redfieldsnow.com.
SLED RAFFLE
Our annual event was held January 18th at the Cheese Factory in Redfield, NY. The winners were as follows:
2020 Polaris Snowmobile - Tony Guercioni
$100.00 cash winners - Louise Wenger, Daron Morrill, Peter Cullinan, Debra Avacle, Joe Cesta
POKER RUN & BBQ
Our annual Poker Run and Chicken BBQ were also held at the Cheese Factory on Saturday, January 18, 2020.
The Poker Run had 25 sponsors and $1,000 in prize money. Winners of the Poker Run were:
Poker High Hands - Tim Perkins, Gerry Burd, Dorrene London, Scott Shea, Tim O'Brien
Poker Low Hands – Sue Dopp, Bruce Smith, Juliann Klafehn, Ernie Ritter, Kevin Hahn, Cindy Cheney
Special drawing for obtaining stamps from 15 or more stops from our sponsors – Josh Rushlo, $50;
Sandy & Rich Thorn, $100 Tailwater Gift Certificate plus $50 cash; Douglas Potter, 2 night stay at Niciu Nob Cabins
The winner of the $390 - 50/50 drawing was Rick Waldron, who graciously donated $380 back to the club!
Thank you to our Super Raffle Sponsors: Trail Master Parts, Wehner Mower, Ingles Performance, Bibbens Sales, Hollink Motor Sports, A & P Auto Parts, Junk Yard Dog, Mike Piccione
Winners were – Gerry Burd, helmet; Todd Yates, Yeti cooler; Robert McLaughlin, Polaris lubricant; Debra Abatti, 2 cycle oil; Sal Piccione, pruning saw; Phil Hauer, vodka; Scott Shea, trailer mats; Kathy Pegrich, snowmobile safety light
A huge thank you goes out to:
- All who sold and/or bought raffle tickets
- All our business sponsors
- Jon Kirby at Precision Power Services, Spencerport, NY for his help with the purchase of the sled
- Williams Farm, Marion, NY for donating the potatoes
- Everyone who helped out with the event, also preparing and serving food
Officers and Directors 2019 - 2020
OFFICERS
President: Ed Montieth 315-599-7762
Vice Pres.: Jerry Murphy 585-352-4492
Treasurer: Bill Brasser 585-377-0020
Recording Secretary: Sue Murphy 585-352-4492 -  secretary@redfieldsnow.com
Membership Secretary: Kathy Frey 585-377-0020 - membership@redfieldsnow.com
DIRECTORS
Ken Burd 315-652-7095
Kurt Diehl 585-293-3068
Adam Hulse 914-443-6719
Brandon Jackob 845-590-2500
Jim Kreckman  585-233-3649
John Singer 585-330-3671
Ray Sweeney 315-382-1238

Redfield Snowmobile Association