Redfield Snowmobile Association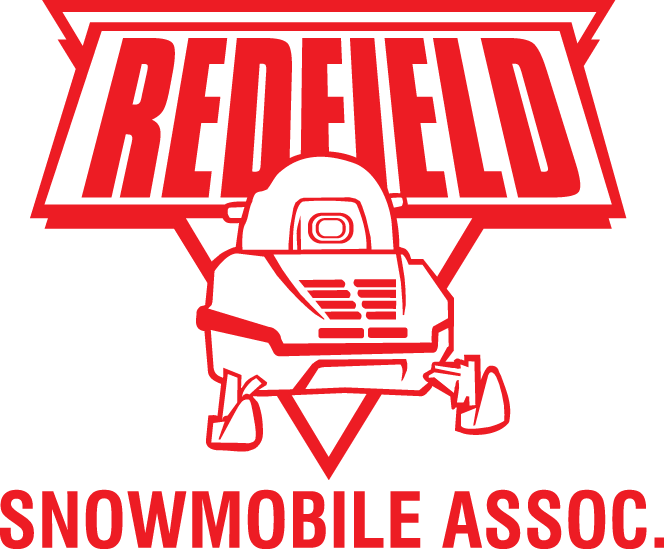 About Redfield Snowmobile Association
Welcome to the on-line home of the Redfield Snowmobile Association.
Our club was formed over 45 years ago and still continues to grow with over 800 members. The Town of Redfield is located to the 'lee' of Lake Ontario, giving us over 250 inches of snow annually. We groom over 42 miles that connects to trails in Lewis, Oneida, Oswego, and Jefferson counties. We are a totally voluntary organization and appreciate your interest and support. Our trails open one week after Northern Zone hunting season closes - snow conditions permitting. Ride safely; respect the trail surface and our landowners - without them there would be no trails. We are proud members of the Oswego County Snowmobile Association and the New York State Snowmobile Association.
45th  ANNIVERSARY
We are pleased to announce the Redfield Snowmobile Association is celebrating our 45th year anniversary.  On December 12, 1976, a group of locals met at the Redfield Hotel and organized the Redfield Snowmobile Club.  The following officers were elected:  Walt West, President , Carol Wiegar, Secretary,  George Desiderio, Treasurer, Steve Babcock, Trail Boss.  Lloyd Bumpus and Francis Adams were in charge of securing landowner permissions for trails.  Family memberships were $10.  Since we didn't have a groomer barn, the Redfield Hotel was the headquarters for a short time.  They started grooming trails by dragging a bed spring behind a snowmobile.  Eventually they purchased a series of Bombardier groomers and used them for years.  Our current groomer barn was purchased in March of 2006 from Francis Adams.  We currently own a 2008 Tucker groomer and a 2018 Piston Bully groomer.  We groom over 42 miles of trails connecting trails between Osceola Snowmobile Association, Pulaski Boyleston Snow Club, Kasoag Trailblazers, TC Riders Snowmobile Club and Barnes Corners Sno-Pals.  In March of 2021 we purchased 14 acres at 696 County Route 47, ½ mile from our current building.  We are planning to have many fundraisers with the anticipation of building in 2023.  Stay tuned for updates!

TRAILS -
3/26/2023
Trails are now closed. Check our FaceBook page for updated club workdays and events.
PLEASE,  ALWAYS RESPECT OUR LANDOWNERS.
WORKDAYS
Please check our Facebook page for up to date information concerning our  work days.  Our work days are normally scheduled for the 2nd Saturday of the month with the exception of January - March. If you would like to become more involved in any way, contact any of our officers or directors.
MEETINGS
Our annual meeting and election of officers was held on March 25th 2023 at the Groomer Barn.
All officers retained their positions while 2 new directors were voted in. Members are always welcome at our meetings.
EVENTS
Work day on Saturday 10/14/23.  Wash and clean groomers. and UTV.  There  may also be some trail work depending on turnout.
Chicken BBQ at  the Cheese Factory  Saturday 10/21/23 starting at noon.
We have Redfield Snowmobile Association Apparel for sale.
Shirts, Sweatshirts and Hoodies can be purchased at the Redfield General Store and the Hayloft of Tug Hill.  Pricing from $19.00-$40.00
We also have Insulated Travel Mugs, with our Logo, for sale at The Hayloft of Tug Hill for $25.00.  If you would like one or more shipped please contact Bill at 585-377-0020.  Shipping charges will apply.
Officers and Directors 2023 - 2024
OFFICERS
President: Ed Montieth 315-599-7762
Vice Pres.: Jerry Murphy 585-352-4492
Treasurer: Bill Brasser 585-377-0020
Recording Secretary: Sue Murphy 585-352-4492 -  secretary@redfieldsnow.com
Membership Secretary: Kathy Frey 585-377-0020 - membership@redfieldsnow.com
DIRECTORS
Ken Burd 315-652-7095
Dominic Siracusa 585-303-9158
Adam Hulse 914-443-6719
Brandon Jackob 845-590-2500
Jim Kreckman  585-233-3649
Ray Sweeney 315-382-1238
Jamie Darling 315-345-0413

Redfield Snowmobile Association